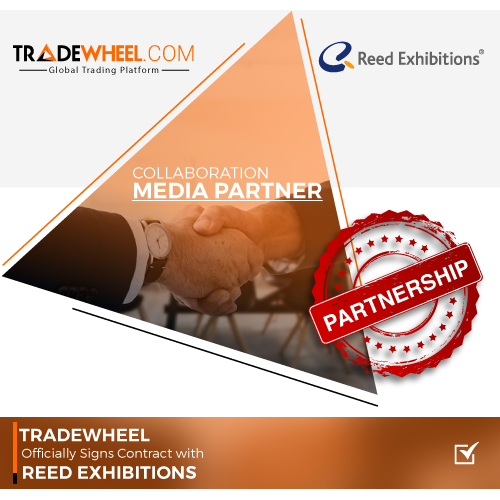 Reed Exhibitions is an event organizing company owning the portfolio of more than 500 successful events in approximately 40 countries that include France, Brazil, India, Austria, USA, Russia, China, Germany, South Africa, UK, and the Middle East. Reed Exhibition predominantly operates in four market segments that are technical and medical; scientific; risk and business analytics; legal; and exhibitions. Their primary focus is on large-scale business-to-business events, but they also participate in various consumer events. Their specialists use unique insights and resources to evaluate and comprehend how the target audience will navigate the exhibitions.
TradeWheel has been declared as the official media partner for Reed Exhibitions. One of the most reliable and leading B2B E-commerce marketplace for trans-border trading operations. With its steadfast dedication, TradeWheel.com has significant stakes in modernizing business to business operations and making global trade more natural than ever before. The most respected B2B Marketplace, TradeWheel currently caters to more than 700,000 registered users and is rapidly increasing its database of manufacturers, importers, and companies from all over the world.
With the prime objective to connect the worldwide trading community, it is specially designed and developed to address the aggressive business competition by furnishing a secure, dependable, and trustworthy medium of trading. TradeWheel is expected to contribute its resources and schemes with Reed Exhibitions to target and boost the trading openings by vigorously implementing its ideal online marketing solutions to intensify the exhibition's reach. It has gathered a positive reputation in the relevant industry as a consequent to its sturdy and powerful marketing features.
Reed Exhibitions are involved with all the leading and significant marketing events that are the excellent platforms to discover, expand, and keep up with the contemporary trends of the industry. These events are subjected to deliver the results as per the expectations of attendees. Reed Exhibitions are efficient in offering products and services from new and established suppliers as well as expert advice from specialists. In the today's digital-savvy world, face to face interaction has become the most crucial thing, and Reed offers excellent recommendation services to find the perfect match with potential customers and put your business in front of hundreds of global buyers. It believes that exhibiting abroad in the presence of vigilant and active buyers is one of the swiftest and most cost-effective way to reach new customers.
Tradewheel and Reed Exhibitions, with combined efforts and far-sighted vision, aims to awe and enthrall the exhibition attendees with a rich array of events and exclusive features like seminars and workshops to provide the participants a deep insight into the current industry happenings. Both these globally renowned names are investing their resources into creating the perfect exhibition environments to promote significant, and long-lasting relationships among the 7 million annual visitors belonging to diverse 43 industry sectors. These exhibitions are the ideal stage for businesses and enterprises with the objective of forming trade alliance with foreign companies in securing trade opportunities and gaining global popularity.