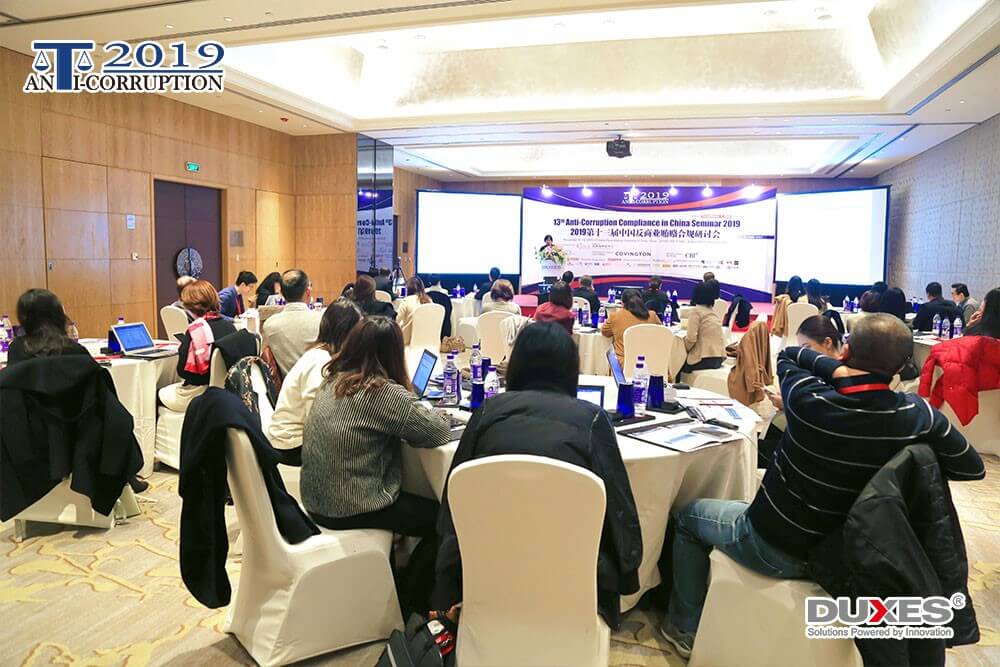 The 13th Anti-Corruption Compliance in China Summit 2019 (ACCN), hosted by Duxes, took place at the Crowne Plaza Chaoyang U-Town in Beijing from November 13-14. ACCN 2019 attracted business leaders and legal experts from around the country to exchange ideas on the latest approaches, best practices and interpretation of staying on the correct side of the law when setting up a compliancy scheme or running a business in the country.
ACCN 2019 included speakers from the highest-profile compliancy analysts and academic institutions, including policymakers and representatives from the State Administration for Market Supervision, TRACE International, Ernst & Young, China University of Political Science and Law, Covington & Burling LLP, the Center for Business Ethics & Compliance and the United Nations Development Programme (UNDP).
During the two-day event, legal specialists from the fields of biotechnology, packaging, renewable energy and aerospace met to talk about their experiences of compliancy in China and share their case studies. Speakers gave presentations on setting up enterprise compliance systems to avoid key business risks, using forensic analysis to detect corruption, and how to approach due diligence using the most informed strategies.
Attendees were invited to analyze and interpret the impact of China's latest Anti-unfair Competition Law, and learned what to do in the event of an anti-corruption investigation. In addition to the many speeches delivered by the distinguished guests, the event also featured a fascinating panel discussion on the topic of gifts, entertainment and hospitality and anti-corruption best practices in high-risk industries.
This gathering was an important showcase of the harmonization between legislators, legal experts and representatives from some of the world's biggest companies.
On the first day, Michelle Juan, Asia Pacific regional manager of TRACE International, gave a talk on how to control costs whilst carrying out due diligence procedures. In her presentation, she noted that: "One tip we suggest is that you automate your third-party risks. There are many tools you can use to do this; there are free risk assessments that are available, and there are free resources."
"Due diligence will not uncover all misconduct, but it is part of a robust defense. We always recommend that all your efforts be documented. In case there is some misconduct, you will be able to point to a procedure that is reasonable and consistent, that you have gone through when regulators come calling," she added.
Kenneth Zhou, head of legal and compliance at SIG Combibloc, later spoke on his approach to compliance when doing business in China. He explained that "For a company, compliance culture matters a lot. No matter how good your lawyers are, if your corporate culture remains unchanged and the boss of the company does not want to abide by the rules in China, well that company will not be successful in the local market."
"Also, for a compliance officer you are not only a gatekeeper to help your company predict the risks but you are a reformer. You should have the strategic thinking to foresee what the company should do in order to thrive in the industry or comply with some of the latest policies and rules," he told delegates.
On the second day, Wu Wei, a lawyer from King & Wood Partner, delivered a talk on reducing corporate compliance risks. In her presentation, she listed the main areas of focus in compliancy for Chinese enterprises as being: civil legal liability, administrative legal liability and criminal liability.
"Previously, I was mainly working with foreign companies. But since this year, more domestic enterprises are implementing compliance systems," she explained.
Also on the second day, Anga R Timilsina, global programme advisor on anti-corruption, delivered a talk on current international laws to curb the misuse of gift giving and hospitality in the corporate sector. He commented that "Only having policies, procedures and disclosure systems is not enough for organizations. There should be mechanisms in place to deal with and deter corruption, by carrying out very effective investigations and monitoring – and people have to be sanctioned."
He said: "No one country or no one agency can effectively fight corruption. It has to be a society's main priority; it has to be a government-wide priority; it has to be an industry-wide priority. At the end of the day it's a collective action."
Duxes is grateful to all of our distinguished speakers for having taken time out of their busy schedules to attend ACCN 2019 and to share such noteworthy opinions on these matters of industry importance. Duxes also wishes to show their appreciation for the sponsorship of CBI and Covington & Burling LLP; to The CUPL Center for Competition Law (CCCL) for their academic guidance; and, to TRACE International for their endorsement of the event. Lastly, thanks to the numerous organizations that have made ACCN possible with their strong support!
If you missed this summit, don't worry; you can still catch up from anywhere in the world by downloading the XEvents app on your mobile device. Create an account and login to view the complete presentation materials from the event and get full access to all our online webinars!
Stay up-to-date on the latest industry trends and the most authoritative policy interpretations by subscribing to the official Duxes WeChat account here:

Or following the XEvents industry community:

Duxes is also pleased to add that there are several related forums taking place soon as part of the Duxes Compliance and Risk Series. These include:
ACAP
8th Anti-Corruption Compliance Asia Pacific Summit 2020
March 26-27, Singapore
ACSH
14th China Anti-Corruption Compliance Summit 2020
April 20-21, Shanghai
For more information and to book your tickets today, please visit: http://www.duxes.cn/DuxesEventCalendar/index.html